| | | |
| --- | --- | --- |
| | Werchter - Belgique [Festival Rock Werchter 2002 - Pyramid Marquee] - vendredi 28 juin 2002 | |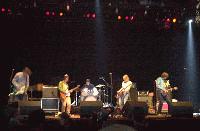 20h10 : la Pyramid Marquee est pleine à craquer ; Sonic Youth monte sur scène et attaque d'entrée avec un "Bull In The Heather" toujours efficace, Lee et Thurston y assurant le spectacle, guitares pointées vers le ciel... S'en suit un très propre "Kotton Krown", avant d'enchainer sur des titres du nouvel album.
Le son général laisse toutefois quelque peu à désirer : les basses sont ultra devant, et on a du mal à distinguer les jeux de guitares...
Après un faux départ de Thurston sur "The Empty Page", sa guitare n'étant pas accordée correctement pour la chanson, Mr.Ranaldo nous explique qu'ils sont arrivés vingt minutes avant le début du concert... L'ingénieur du son en profite pour se mettre au travail, et le concert s'enchaîne magnifiquement : les morceaux de Murray Street, entrecoupés par un ultra sonique mais fatiguant "Eric's Trip", prennent toute leur splendeur en live. Chaque membre du groupe s'applique à y mettre toute son énergie, comme sur le très tendu "Radical Adults Lick Godhead Style".
Après un très émouvant "Karen(ology) Revisited", "Kool Thing" vient renflammer un public toujours trop friand de pogos, et alors que l'on croit à la fin du concert, 10 minutes supplémentaires sont accordés aux mythiques New Yorkais : le planant "Disconnection Notice" et le terrifiant "Drunken Butterfly" concluent en beauté le concert.
Ne s'attendant pas à une incroyable prestation pour un concert festivalier, on sort de ce concert le sourire aux lèvres, la tête dans les étoiles. Que demander de plus à Sonic Youth lors d'un festival de cette ampleur ?
Rien, c'était parfait.

Set List :
Bull In The Heather
Kotton Krown
The Empty Page
Rain On Tin
Eric's Trip
Plastic Sun
Radical Adults Lick Godhead Style
Karenology
Kool Thing
>>
Disconnection Notice
Drunken Butterfly


Sonic Youth jouait sur la petite scène, de 20h10 à 21h10.

Proposez votre chronique !
En ligne
Au hasard Balthazar
Sondages