| | | |
| --- | --- | --- |
| | Paris [Elysée Montmartre] - lundi 10 juillet 2000 | |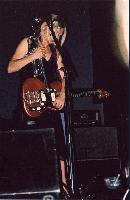 Pour cette tournée Nyc, Ghosts And Flowers, Sonic Youth évolue pour la première fois en quintet. En effet, Jim O'Rourke est présent sur scène, complétant la formation initiale, à la basse, à la guitare, au power-book ou à une console de son. Dans un Elysée Montmartre affichant complet, le groupe ouvre les hostilités par des versions boostées à trois guitares de Tom Violence et White Kross avant de se plonger dans les compositions délicates de Nyc, Ghosts And Flowers, qui prennent sur scène toute leur ampleur ; le groupe va ainsi alterner nouveaux et vieux morceaux, dont on retiendra les passages d'anthologie suivants : un Kool Thing ultra-sexuel et groovy, le très glauque Side2side, une version de 10 minutes apocalyptiques de Mote, ou encore les flamboyants Schizophrenia et Nyc, Ghosts And Flowers. Le groupe est en grande forme, y compris O'Rourke, qui donne l'impression de faire partie de SY depuis toujours. Après l'expérimental Ligthnin' et une excellente version de 100% joué lentement (!!), SY clôture vigoureusement la soirée par le sauvage Brother James.
| | |
| --- | --- |
| Exceptionnel ! ! 19/20 | par X_Elmo |

Set List :
Tom Violence
White Kross
Free City Rhymes
Renegade Princess
Kool Thing
Sunday
Nevermind
Side2Side
Mote
Schizophrenia
NYC, Ghosts And Flowers
>>
Lightnin'
100%
>>
Brother James

Première Partie : Sleater Kinney

Proposez votre chronique !
En ligne
Au hasard Balthazar
Sondages