The Ex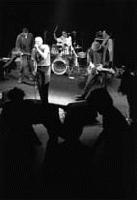 Groupe Hollandais (Amsterdam) formé en 1979. A l'origine punk et anarchiste, la musique de The Ex, en plus de ses 25 ans d'expérience, a évolué et exploré bien d'autres directions, souvent par le biais de collaborations avec d'autres artistes (Tom Cora, Tortoise, Ex Orkestr ...). Elle restera néanmoins toujours fortement alternative et politiquement engagée.
Le groupe dans sa formation habituelle est composé de deux guitares (Terrie & Andy), d'un chant (G.W. Sok) et d'une batterie (Katrin).

En 2003, The Ex se sépare de leur bassiste de 19 ans. Remplacé par Rozemarie à la contrebasse pendant 2 ans, c'est ensuite le bassiste de Zu qui officie à ce poste le temps de quelques concerts, avant de retrouver finalement The Ex sous la forme d'un quatuor.
En ligne
Au hasard Balthazar
Sondages