X_Keyser José
Profil
Top 50
Statistiques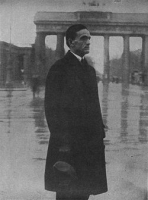 Age :

26 ans


Résidant à :

Lyon


Site web :

http://www.xsilence.net


Email :

keyserjose [=] xsilence.net


Inscrit depuis :

le samedi 10 décembre 2005
I am a child
I refuse time

I watch the sky and this rainbow alleviate myself
I watch the light and then I wander in my dreams

Forget the time
Keep being a child


Al fin de la batalla,
y muerto el combatiente, vino hacia él un hombre
y le dijo: "No mueras, te amo tanto!"
Pero el cadáver ¡ay! siguió muriendo.

"Jamais, hommes humains,/
il n'y eut dans la poitrine, au revers de la veste, dans le portefeuille,/
tant de douleur,/
dans le verre, dans la boucherie, dans l'arithmétique !/
jamais tant de tendreresse douloureuse /
jamais si proche du si lointain assaut,/
jamais le feu jamais /
ne tint mieux son rôle de froid mort ! //
.....
le malheur s'accroit, frères hommes"
A l'instant sur la platine

#0

G. Verdi - Requiem

Playlist du moment

#1

H. Berlioz - Requiem

#2

W.A Mozart - Requiem

#3

G. Mahler - Symphonie 4

#4

H. Berlioz - Symphonie Fantastique

#5

J. Haydn - Les 7 Dernières Paroles du Christ
» X_Keyser José
vous recommande :






1490 messages dans les forums
En ligne
Au hasard Balthazar
Sondages