| | | |
| --- | --- | --- |
| | Lyon [Palais Des Sports] - mardi 13 juin 1989 | |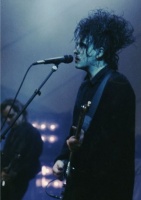 Ce concert restera magique à mes yeux pour trois raisons:
1/ Ce concert est mon premier concert de The Cure, découvert un an auparavant.
2/ J'ai 17 ans et ce concert est mon premier véritable concert.
3/ La prestation restera une des plus belles vues de ce groupe mytique.

Ne connaissant pas encore a l'époque toute l'oeuvre de The Cure (quelle chance, j'en rêve encore de découvrir des albums de The Cure) je garde un souvenir un peu flou de ce concert, bien que la setlist soit très centrée sur le nouveau né Disintegration.
Un souvenir d'une forte tension, excepté le premier rappel très pop.
Robert Smith semble sur la brèche. Il ne chante pas des chansons, mais il semble revivre sur scène des tranches de vie. Rarement j'ai senti quelqu'un sur scène autant plongé, investi dans son oeuvre.
Par contre le groupe n'est pas uni. Chacun semble jouer dans son coin, plongé dans sa propre performance. Il en résulte une ambiance assez particulière, tranchante.
"A Forest" est joué au milieu du set principal, chose assez rare pour le mentionner.
Les versions de "Fascination Street", "Disintegration", "A strange Day" sont très violentes et contrastent avec le reste plutôt orienté vers un répertoir lent et triste ou résolument pop.

Le troisième rappel restera gravé dans ma mémoire, le groupe présentant une version de "Faith" rougeoyante longue et très intense.

Un concert qui scèllera définitivement la grande passion entre ce groupe et moi, passion qui dure (avec des hauts et des bas) depuis maintenant 16 ans.

Setlist:
Plainsong
Pictures Of You
Closedown
Kyoto Song
A Night Like This
Just Like Heaven
Last Dance
Fascination Street
Cold
Charlotte Sometimes
The Walk
A Forest
Inbetween Days
The Same Deep Water As You
Prayers For Rain
Disintegration
>>>
Lullaby
Close To Me
Let's Go To Bed
Why Can't I Be You
>>>
Hot Hot Hot
A Strange Day
Three Imaginary Boys
Boys Don't Cry
>>>
Homesick
Untitled
Faith

Proposez votre chronique !
En ligne
Au hasard Balthazar
Sondages