| | | |
| --- | --- | --- |
| | Berlin - Allemagne [Tempodrom] - mardi 12 novembre 2002 | |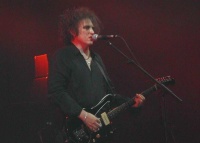 Un concert déja mythique, immortalisé sur un DVD Trilogy, auquel j'estime avoir eu la grande chance d'assister.
Trois albums phénoménaux.
4h30 de prestation.
Un groupe au sommet de son art....
J'avais quelques craintes sachant la setlist à l'avance, mais entendre ces albums d'une traîte a été une expérience unique.
Beaucoup de tension accumulée surtout durant le set de Pornography, de loin le plus fort à mon goût. Les versions sont épurées, les instruments d'origine ayant été utilisés. La voix de Robert est incroyablement puissante, autant que la basse de Simon. L'occasion d'entendre "A Short Time Effect" et "The Hanging Garden", jamais jouées depuis 1982.
Les éclairages sont crus et les images diffusées (Berlin durant la guerre sur "Hundred Years") renforcent les ambiances. Je souffre et j'aime ça. Tant de souvenirs associés à ces chansons remontent à ma mémoire...

Disintegration est magistralement interprété. Le set est plus brumeux que le premier, les arrangements comportant beaucoup plus de "couches". Les versions de "Disintegration" et "Untitled" frisent le sublime. Le public, inutile de le dire est aux anges. Je pense n'avoir jamais assisté à un concert durant lequel il y a un tel lien entre les gens. On se regarde, on chante et danse ensemble.

Bloodflowers termine le set. "Watching Me Fall" renverse le public, Perry torture sa guitare. "Bloodflowers" nous offre un solo de Robert somptueux.

Les premières notes d'"If Only Tonight We Could Sleep" demarrent et toute la tension accumulée lors du concert tombe et... je fonds en larme. Pour tout laisser sortir. Mon voisin british se tourne alors et me prends dans ses bras durant la moitié de la chanson. Un moment inoubliable. Puis la basse de simon sonne les premiers accords de "The Kiss". Le public tourne alors à l'hystérie. Tout le monde je mets à sauter partout. Le groupe nous offre une version à graver dans les anales. Près de 10 minutes de délire.
Six titres viendrons encore s'ajouter en rappel incluant les mythiques "M" et "A Forest" toujours aussi forts.

Le groupe s'éclipse après moultes remerciements. La lumière se rallume. Les gens se regardent avec des regards hébétés ou très souriants.
Je sors dans un Berlin plongé dans le noir.
Il est 1:30. J'ai le sentiment d'avoir assisté à un moment d'anthologie. Qui restera en tout cas gravé dans ma mémoire comme un point culminant.
La nuit me happe, perdu dans mes pensées...

Setlist:
Part 1: One Hundred Years, A Short Term Effect, The Hanging Garden, Siamese Twins, The Figurehead, A Strange Day, Cold, Pornography.

Part 2: Plainsong, Pictures Of You, Closedown, Lovesong, Last Dance, Lullaby, Fascination Street, Prayers For Rain, The Same Deep Water As You, Disintegration, Homesick, Untitled.

Part 3: Out Of This World, Watching Me Fall, Where The Birds Always Sing, Maybe Someday, The Last Day Of Summer, There Is No If..., The Loudest Sound, 39, Bloodflowers.

1er Rappel: If Only Tonight We Could Sleep, The Kiss.
2nd Rappel: M, Play For Today, A Forest, Grinding Halt, Boys Don't Cry.

Proposez votre chronique !
En ligne
Au hasard Balthazar
Sondages