| | | |
| --- | --- | --- |
| | Paris [Le Bataclan] - mardi 24 mai 2005 | |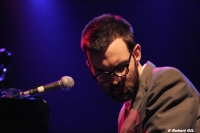 Un concert de Eels, c'est un peu comme une soirée déguisée : on y retrouve de vieux amis, on y fait des connaissances, et enfin quelques invités de marque viennent faire une apparition, alors qu'on ne leur avait rien demandé.

Cette fois, le thème de la soirée est (roulements de tambour...) : orchestre ! Nous avons donc en accompagnateurs quatre charmantes hôtesses (sous la forme d'un quatuor à cordes), un vigile qui s'assure que le rythme ne baisse pas (contrebasse), un homme à tout faire (pedal steel, batterie, guitare), et bien évidemment le maître de cérémonie, Mr E, qui depuis ses toy piano, piano ou guitare, s'assure du bon déroulement de la soirée.
Un E moins causant que d'habitude, qu'importe, tous les invités sont là. Et malgré un début timide, c'est avec plaisir qu'on découvre de nouvelles têtes ("I Need Some Sleep" échappé de la BO de Shrek 2, "Losing Streak", "Railroad Man", "Things The Grandchildren Should Know"), d'anciennes connaissances qu'on retrouve toujours avec plaisir ("It's A Motherfucker", "My Beloved Monster", "I Like Birds", "Grace Kelly Blues"), de vieux amis perdus de vue ("Spunky", "The Only Thing I Care About"), un rebelle qui n'a pas voulu se déguiser (le très électrique "Dog Faced Boy", alors que E annonçait une ballade).
Et enfin les célébrités, qui se remarquablement sont prêtées au jeu (reprises de Left Bank, Dylan, Daniel Johnston et Prince).

Tous les secrets d'une soirée certes bien tranquille, mais réussie.
Vivement la prochaine !

Setlist :

Going To Your Funeral, Pt II
Dust Of Ages
In The Yard, Behind The Church
Bride Of Theme From Blinking Lights
A Magic World
Son Of A Bitch
Blinking Lights (For Me)
Dirty Girl
My Beloved Monster
The Only Thing I Care About
Bus Stop Boxer
Pretty Ballerina (reprise de Left Bank)
I Like Birds
I Need Some Sleep
Spunky
Railroad Man
Trouble With Dreams
Girl From North Country (reprise de Bob Dylan)
If You See Natalie
I'm Going To Stop Pretending That I Didn't Break Your Heart
Dead Of Winter
Dog Faced Boy
Losing Streak
The Stars Shine In The Sky Tonight
Souljaker, Pt II
----------------------------------------------
Hey Man (Now You're Really Living)
Flyswater
Grace Kelly Blues
Things The Grandchildren Should Know / Theme From Blinking Lights
-----------------------------------------------
It's A Motherfucker
Living Life (reprise de Daniel Johnston)
-----------------------------------------------
I Could Never Take The Place Of Your Man (reprise de Prince)


Merci à http://lockuhome.free.fr/ pour les photos.

Proposez votre chronique !
En ligne
Au hasard Balthazar
Sondages