| | | |
| --- | --- | --- |
| | Dixmude - Belgique [4AD] - samedi 20 mai 2006 | |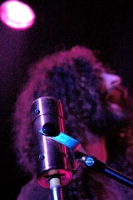 Quand j'ai vu A Silver Mount Zion l'année dernière, j'étais rentré déçu et frustré chez moi.
Après la lecture de tant de chroniques de concert positives au sujet du groupe, je n'avais pas du tout prévu un possible désenchantement alors présent au rendez-vous, à Bruxelles.
Ce soir, après l'ouverture de Xiu Xiu, la bande d'Efrim a remis les pendules à l'heure, de façon implacable.

Un peu comme en octobre dernier, la musique m'a prise de partout, dès le début et, cette fois encore, elle s'est au fur et à mesure de la progression éteinte et enfuie... Je me suis donc dit que j'allais avoir droit à un remake de ma déconvenue récente.
C'est dans ce contexte là, où on n'y croit plus, que le groupe sonne la charge et repart de plus belle, de plus en plus profondément, de plus en plus fort et de plus en plus brillamment. C'est d'autant plus jouissif de goûter à un plaisir qu'on pensait évanoui.
Il serait inutile de décrire ces moments là, pleins de puissantes envolées calculées. Cela ne s'explique pas.
Par contre, les deux rappels et l'apothéose finale de "Take These Hands And Throw Them To The River" ne seront que logiques. On sort de là lessivés, le sourire dominant... Quelle soirée architecturale et retentissante !

Photo: www.kindamuzik.net

Proposez votre chronique !
En ligne
Au hasard Balthazar
Sondages