| | | |
| --- | --- | --- |
| | Bagnolet [L'echangeur] - jeudi 26 février 2004 | |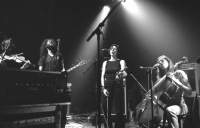 Dés les arpèges de l'intro du sublime "Triumph Of Our Tired Eyes", les frissons traversent l'échine. Quand la voix écorchée de Efrim entre en piste, la larme vient à l'oeil. La voix de Jessica vient se pauser, ("Musicians Are Cowards" entonnent-ils ensemble), la larme coule. Puis tout le groupe part sur une sublime montée (personne ne mélange de manière aussi sublime, violons, violoncelle et guitares, uniquement eux et Godspeed...), et on est happé pour deux heures dans un univers unique, personnel assez dur à décrire par écrit... Ils sont septs sur scène, et chantent tous ensemble, ou à tour de rôle avec une foi, une flamme, une passion démesurée ( "Hang On" final sidérant à capella est le plus beau canon de l'univers) pour ses morceaux fragiles aux textes révolutionnaires et profondément humains. Une pureté, une simplicité et une beauté emmanent de ces sept êtres humains liés par la voix, les cordes, autour des chansons d'Efrim Menuck, nouvelle et seule icone rock dont nous rêvions depuis toujours. "Hang On To Each Other... Anything You Fucking Like"...
| | |
| --- | --- |
| Intemporel ! ! ! 20/20 | par X_Elmo |

Set List :
The Triumph Of Our Tired Eyes
Take These Hands And Throw Them In The River
Amercian Motors Over Smolered Fields
Ring them bells
Babylon Was On Fire/Star No Stars
Goodbye Desolate Railtrack/Hang On
>>
Movie
>>
There's A River In The Valley


Merci à mister Barjabulles pour la photo.
D'autres photos sur:
http://lebonbonacidule.free.fr

Moyenne
20.00
/20


Proposez votre chronique !
| | | |
| --- | --- | --- |
| | Posté le 01 mai 2004 à 18 h 32 | |
Ma petite chronique, s'il en est, sera très brève. Après presque trois mois, l'empreinte que m'a laissé la venue de A Silver Mount Zion à Paris ne cesse de me chatouiller, et il me suffit de lire quelques lignes d'autres, pour me rendre compte à quel point, ce soir, j'ai vraiment eu l'impression d'assister a une performance rare.les mots me manquent deja. Magique et punk dans l'âme !
Une personne a elle toute seule,a reussi a me sortir les tripes depuis ce fammeux soir.Elle etait la, accompagnée par son acolyte batteuse(fameuse!),un ampli ,une guitare et une heure de pure intensite a l'etat brut!
chapeau bas,miss.
Intemporel ! ! ! 20/20
En ligne
Au hasard Balthazar
Sondages