TheFoxBen
Profil
Top 50
Statistiques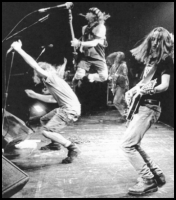 Age :

15 ans


Résidant à :

Bruxelles - Belgique


Email :

thefoxben [=] hotmail.com


Inscrit depuis :

le samedi 10 mars 2007
Salut ! Je suis un jeune fan de toutes sortes de rock (principalement le grunge, le punk, le metal industriel, psychédélique, etc...) et mes groupes préférés sont Alice In Chains, The Offspring, Feeder, Nirvana, Queens Of The Stone Age, Tool, Pearl Jam, Radiohead, Nine Inch Nails et Metallica. J'adore également le cinéma d'auteur/indépendant (Quentin Tarantino, David Lynch, Paul Thomas Anderson, Jim Jarmusch, ...).
» TheFoxBen
vous recommande :






46 messages dans les forums

0 chronique de concert.
En ligne
Au hasard Balthazar
Sondages