| | | |
| --- | --- | --- |
| | Paris [La Cigale] - jeudi 05 juillet 2001 | |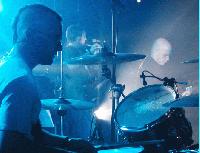 Alors que la voix de Martin Luther King raisonne dans la Cigale, le plancher vrombit dès les premiers samples de Sine Wave, qui va être interprété ce soir dans une version ultra noisy. Mogwai est en grande forme et va jouer très très fort. Alors que le son augmente au fur et à mesure, le groupe, agrémenté de Caroline Barber au clavier et violoncelle, va alterner morceaux déjà classiques et titres plus récents : le sublime Mogwai Fear Satan (avec enfin la partie de flûte!), le pesant Like Herod ou encore l'inévitable Helicon 1 pour les classiques, le paisible D To E et You Don't Know Jesus avec son impressionnant enchevêtrement de guitares, pour les nouveaux titres. Le groupe se paie le luxe de jouer de magnifiques faces B comme Small Children ou Christmas Song. Le clou de la soirée est une sublime version de 2 Rights Make One Wrong où un morceau à la mélodie sublime joué au violoncelle se transforme en un mélange d'électronica et de noise hallucinante. Mogwai clôtura la soirée avec une version quasiment inaudible de My Father, My King joué à 140 décibels. Grand concert, si l'on excepte le fait que le groupe a failli rendre une partie du public sourd.

Set List :
Sine Wave
Mogwai Fear Satan
D to E
Ithica 27o 9
You Don't Know Jesus
Like Herod
small Children In The Background
Helicon 1
2 Rights Make 1 Wrong
>>
The Christmas Song
My Father, My King

Proposez votre chronique !
En ligne
Au hasard Balthazar
Sondages