Afficher
Interpol : we must wait !
Daniel Kesler, guitariste d'Interpol, nous a annoncé par mail que le groupe ne sortirait son premier album que fin aout, début septembre. Il sera sûrement précéder par un single en juin. De plus le groupe est signé sur Matador.
Vivement l'été!
Interpol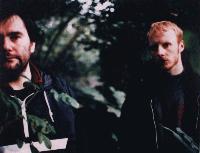 On en a rêvé, ils l'ont fait. Le 22 avril sortira le premier Ep de The Sich Anchors, collaboration entre Aidan Moffat d'Arab Strap et Stuart Braithwaite de Mogwai, avec au programme 3 reprises dont "Whole Again" d'Atomic kitten et un morceau de The Fall.
Mogwai
Arab Strap
The Fall
Sonic Youth vient d'annoncer la date de sortie de son nouvel album : cela sera pour le 4 juin 2002.
Sonic Youth
En ligne
Au hasard Balthazar
Sondages