The Jon Spencer Blues Explosion
| | | |
| --- | --- | --- |
| | Bruxelles - Belgique [Ancienne Belgique] - mardi 19 octobre 2004 | |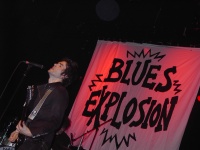 Rock implosion, Blues Explosion ! Ladies and Gentlemen... The Bluuuuues Explosion !!! Judah Bauer, Russel Simins et Monsieur Spencer ont délivré en cette soirée d'octobre un concert glorieux. Six cordes en bandouillère ou en front de bandière, les New-Yorkais ont mis à genoux Bruxelles à coups de riffs sauvages et bouillonnants. Deux heures durant, Jon Spencer et ses acolytes ont déversé leur blues frénétique. Ca sent le cuir, la bière, la sueur, le macadam de la grosse pomme... Le jeu de scène de Spencer est incroyablement racé. Entre fougue et impétuosité, l'animal se démène et s'accapare les spotlights. Son regard noir harangue la foule qui répond avec ferveur. Le Blues Explosion boute le feu à l'Ancienne Belgique qui se consume avec délice jusqu'au final dantesque. Le coeur de l'Europe brûle pour le Blues Explosion !

Mémorable.

Photo par Fan Thomas.

Proposez votre chronique !
En ligne
Au hasard Balthazar
Sondages