| | | |
| --- | --- | --- |
| | Lyon [Arènes De Fourvière] - jeudi 01 juillet 2004 | |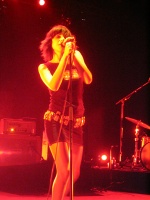 Phénoménal.
Il y a bien longtemps que la musique de PJ Harvey a une raisonnance toute particulière à mes oreilles, mais ce concert aux superbes arènes de Fourvière est ma première chance de la voir en chair et en os. J'avais souvent entendu dire que ses prestations live étaient très dynamiques...
Et cela se confirme !
Quelle énergie !
Quelle voix !
Quelle présence !
Un moment complètement magique qui débute par un "To Bring You My Love" seule à la guitare. Le ton est donné. 1h45 où rage et douceur se mélangent, alternant titres punchy ("Who The Fuck", "Big Exit", "The Whores Hustle..."., "The Radio Oh", "Meet Ze Monster") ou chansons lentes ("The Darker Days...", "Elise"). Premier rappel démarant par un "Uh Huh Her" magistral. Le deuxième rappel commence par un nouveau titre ("Plants And Rags" ??) somptueux où PJ est juste accompagnée de son guitariste. Le public est là, en redemande et PJ n'est pas avare. Elle nous donne ce soir une performance superbe.
Cette demoiselle est depuis cette démonstration encore plus craquante à mes yeux. Et sa musique n'en est que plus intense !

Ps : Franz Ferdinand, première partie idéale pour chauffer le public à blanc. Très bonne prestation.

Setlist :

To Bring You My Love
Whores Hustle
Who The Fuck
The Letter
Dress
Shame
Elise
Victory
You Come Through
Catherine
Down By The Water
Leah
Pocket Knife
Monsta
Cat On The Wall
Harder
Taut
Big Exit

Uh Huh Her
Good Fortune
A Place Called Home
Plants And Rags
Bad Mouth

Darker Days
There Will Never Be A Better Time

Proposez votre chronique !
En ligne
Au hasard Balthazar
Sondages