| | | |
| --- | --- | --- |
| | Paris [La Grand Rex] - jeudi 29 avril 2004 | |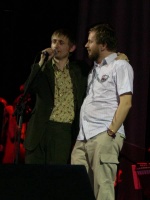 Le décor etait parfait pour un concert de Divine Comedy : le Grand Rex, son standing, ses dorures, ses fauteuils confortables.

Quand vers 21 h, Neil Hannon et l'Ensemble Millenia apparaissent, la salle est enjouée sans plus. On découvre tout d'abord les titres du dernier album : "Absent Friends", "Come Home Billy Bird"... Neil Hannon annonce tout de suite la couleur : "Il va y avoir beaucoup de musique ce soir". La salle s'échauffe quand après une histoire saugrenue de collection de feuilles d'arbres, Divine Comedy ose une reprise du tube des Queens Of The Stone Age, "No One Knows". Une reprise démente où l'on reconnait à la fois l'original et la touche Divine Comedy. La salle s'enflamme... Encore une ou deux tires... Et c'est le moment de l'entracte.

15 minutes plus tard, le concert redémarre sur les chapeaux de roues avec "National Express". Suivront tous les "tubes" de Divine Comedy: "Tonight We Fly", "Generation Sex"... et ainsi de suite. Neil Hannon nous réserve cependant une autre surprise, il joue "The Booklovers" avec en guest-star Vincent Delerm (?). Un duo surprenant dont le Français se sort plutôt bien. Le concert se poursuit avec encore d'autres titres d'Absent Friends.

La soirée s'achève aux environs de 23H00. En deux heures, Neil hannon nous a prouvé qu'il avait renouer avec les heures de gloire de Divine Comedy. Le dandy est toujours aussi décadant et séduisant. Vivement le 20 juin pour les voir en formation trio !

Crédit photo : merci à Anne.
http://www.directanalyse.com/DCweb/index.htm


> Laika's Theme
> Absent Friends
> In Pursuit Of Happiness
> Come Home Billy Bird
> Becoming More Like Alfie
> Sticks & Stones
> Leaving Today
> The Certainty Of Chance
> When the Lights Go Out All Over Europe
> No One Knows (reprise QOTSA)
> Don' t Look Down
> National Express
> Generation Sex
> Songs Of Love
> The Booklovers
> The Happy Goth
> Therre Sisters
> Neptune's Daughters
> Our Mutual Friend
> Charmed Life
> Tonight We Fly
>>>>>>>>>>>>>>>
> Something For the Week End
> Sunrise

Proposez votre chronique !
En ligne
Au hasard Balthazar
Sondages