| | | |
| --- | --- | --- |
| | Paris [Rock En Seine / Grande Scène] - vendredi 26 août 2005 | |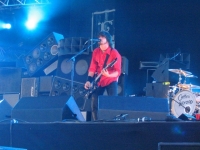 20h15, les tant attendus Foo fighers débarquent sur la grande scène du festival Rock en Seine devant un public motivé à bloc ! Dave Grohl arrive avec un énorme sourire sur le visage, on voit qu'il est content d'être là. Ce soir, il nous épargnera même ces "ah yeah !" et "here we go" un peu lourds, en tout cas toute la bande était en bonne forme malgré la succession de concerts éffectués depuis le début de l'été ! Notamment l'intenable Taylor Hawkins derriere les fûts ! Seul Nate Mandel, le bassiste, toujours très discret semblait un peu s'ennuyer mais peut-être n'est ce qu'une impression...
Une heure de concert qui passe très vite, peu de titres du nouvel album, il est clair que pour entendre les titres acoustiques il faudra probablement les revoir en salle, car dans le cadre d'un festival, la bande à Grohl a préféré (à juste titre) envoyé la sauce, avec bizarrement, beacoup de vieux titres du néanmoins excellent The Colour And The Shape. Par contre, aucune chanson du premier album. Bref, un très bon moment, on a pu également apprécier les efforts de Dave Grohl pour communiquer avec le public (pas comme les Pixies la veille...). Les Foos sont definitivement un très bon groupe de scène !!!

Photos par Vince.
http://www.nonewsweb.com/

Setlist
In Your Honor
All My Life
Times Like These
My Hero
Best Of You
Up In Arms
Learn To Fly
The One
Stacked Actors / Jam
Everlong (Dave solo)
Monkey Wrench
>>>
Breakout

Proposez votre chronique !
En ligne
Au hasard Balthazar
Sondages