| | | |
| --- | --- | --- |
| | Bruxelles - Belgique [Ancienne Belgique - AB Club] - vendredi 30 septembre 2005 | |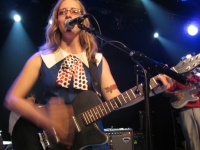 Laura, Laura, Laura !! Trois fois Laura en l'espace de douze mois dans la capitale belge. La belle aime voyager et la route l'inspire. Pour preuve la sortie toute récente de Year Of Meteors, le digne succésseur de Carbon Glacier, une des oeuvres référence de l'année 2004.

Encadrée des Tortured Souls cette fois au grand complet, Laura Veirs va s'affirmer plus d'une heure durant comme l'une des singers-songwriters les plus douées et prolifiques de son temps. Mariant avec un rare bonheur mélodies légères et envolées électriques nappées d'orgue vintage et de bidouillage électro, la nouvelle princesse du folk sait mettre les doigts dans la prise et goûter au haut voltage. Les harmonies habituelles en prennent plus d'ampleur et offrent une toute nouvelle dimension à l'oeuvre de plus en plus conséquente de l'américaine. Désarmante de simplicité, sourire aux lèvres, Laura Veirs confirme le talent scénique entrevu lors de ses passages précédents.

Et si Year Of Meteors se transformait en Year Of Laura Veirs?

Photo par Fan_Thomas. Droits réservés.

Setlist :
Cool Water
Rialto
Parmesan On Doug
Magnetized
Lonely Angel Dust
Fire Snakes
Galaxies
Shadow Blues
Spelunking
Where Gravity Is Dead
Lost At Seaflower Cove
Black Gold Blues
Through The Glow
Secret Someones
>>
Rapture
Wind Is Blowing
Lake Swimming

Proposez votre chronique !
En ligne
Au hasard Balthazar
Sondages