| | | |
| --- | --- | --- |
| | Bruxelles - Belgique [Botanique - La Rotonde] - vendredi 24 septembre 2004 | |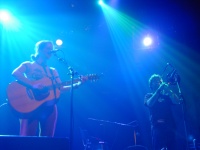 Mini happening pour la venue de Laura Veirs au Botanique. Assis parmi les rangées et le parterre de la Rotonde, les privilégiés présents profitent de l'ambiance "coin du feu" pour écouter la petite fille de Seattle ré-inventer le romantisme. Accompagnée de ses Tortured Souls Steve Moore (mini Korg, trombone) et Karl Blam (guitare électrique, échantilloneur), Laura Veirs caresse nos sens. La Rotonde est sous le charme et se laisse bercer par les harmonies vocales d'une douceur infinie qui se prêtent merveilleusement à ce folk mélodique et personnel. "Rapture", "Shadow Blues", "Ether Sings",... chaque titre joué est une étoile accrochée à la coupole de la Rotonde que la fée Laura aura illuminée de mille feux cette première nuit d'automne.

Un délice de live, rare et poétique.

Setlist:
Snow Camping
Shadow Blues
Ether Sings
Wasps Of Rain
Lake Swimming
John Henry Lives
Raven Marching Band
Salvage A Smile
Doug + Parisian
Rapture
Deep Glade
Rialto
Riptide
The Cloud Room
>>>
One Thin Dime
Through The Glow
>>>
Lonely angel dust
Through December




(Photo par Fan Thomas.)

Proposez votre chronique !
En ligne
Au hasard Balthazar
Sondages