| | | |
| --- | --- | --- |
| | Montreux - Suisse [Montreux Jazz Festival - Miles Davis Hall] - mardi 11 juillet 2006 | |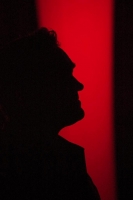 "Good evening, Jazz fans !" dira Morrisey à son arrivée sur scène.
Arrivée très attendue, étant donné que Morrissey (et les Smiths) ont toujours eu quelque chose d'immatériel pour moi, le genre de groupe que l'on imagine ne jamais pouvoir voir un jour sur scène.
Et voilà que le dandy nous offre un passage au renommé "Montreux Jazz Festival".
C'est donc avec beaucoup d'impatience et un peu de craintes que j'attends l'entrée sur scène du maître Morrissey.
Clameur, et mon cœur s'emballe avec un "How Soon Is Now" sublime, premier titre des Smiths chanté ce soir. Riff de guitare jouissif, voix parfaite, quel démarrage sur les chapeaux de roue... Et la suite va passer à une vitesse folle oscillant entre vieux titres, et de nombreux morceaux des 2 derniers albums.
"Let Me Kiss You" me fait fondre, "Girlfriend In A Coma" et je sautille partout.

Le public est visiblement composé de mordus, très réactif.
Morrissey nous fait bien comprendre qui est la star ici. Mais sa prestation ne manque pas d'humour et de punch, l'homme aimant beaucoup jouer avec le fil de son micro, tel un fouet.
Et viendra le moment magique du concert. "Life Is A Pigsty" démarre avec ses grondements. L'interprétation est sublime, émouvante. Quel plaisir de voir que le Moz est toujours capable de nous pondre des titres d'une telle qualité.
"Irish Blood, English Heart" comme testament puis s'en est allé,
Et je suis repartis avec des images plein la tête, avec le sentiment que le bonhomme a toujours bien des choses à dire...

Setlist:
How Soon Is Now?
First Of The Gang To Die
The Youngest Was The Most Loved
In The Future When All's Well
Let Me Kiss You
Girlfriend In A Coma
I Will See You In Far-off Places
I'll Never Be Anybody's Hero Now
At Last I Am Born
Ganglord
You Have Killed Me
To Me You Are A Work Of Art
Trouble Loves Me
I Just Want To See The Boy Happy
Life Is A Pigsty
Panic
Irish Blood, English Heart



Crédit photo: Keystone.

Proposez votre chronique !
En ligne
Au hasard Balthazar
Sondages