Drumouf
Profil
Top 50
Statistiques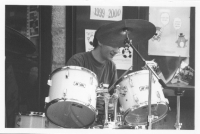 Age :

29 ans


Résidant à :

Tipperary - Irlande


Email :

le_ouf_phad [=] hotmail.com


Inscrit depuis :

le dimanche 28 août 2005
Eclectique dans mes goûts musicaux !
Ca va du post-rock au rock indépendant jusqu'au jazz un peu de musique classique de la bonne world music et certains chanteurs français...
A l'instant sur la platine

#0

The Arcade Fire : Neon Bible

Playlist du moment

#1

Explosions in the sky : All of a sudden I miss everyone
» Drumouf
vous recommande :






11 messages dans les forums

1 chronique de concert.
En ligne
53 invités et 1 membre :
S.
Au hasard Balthazar
Sondages