Eagles Of Death Metal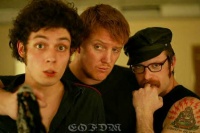 Derrière ce nom relativement kitsch, on retrouve un des nombreux side-projects de Josh Homme, leader des Queens Of the Stone Age (entre autres). A ses côtés l'ont rejoint Timmy VanHamel à la guitare (Millionaire), et Jesse Hugues (guitare et chant).
Ils publient leur premier album en 2004, mélange de blues et de gros rock, sur le label de J.Homme Rekords Rekords, affilié au Ipecac Records de Mike Patton.
En ligne
Au hasard Balthazar
Sondages