Rage Against The Machine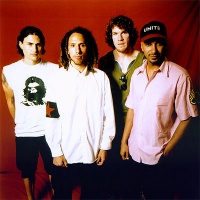 Il deviendrait presque parjure de présenter Rage Against The Machine ... mais bon, on va le faire quand même, on ne sait jamais ! ...
Tom Morello, Brad Wilk, Tim Bob et Zach de La Rocha se rencontrent au début des années 90 à Los Angeles. Dés le premier album sorti en 1992, Rage Against The Machine frappe fort et sort du lot, grâce à un son nouveau et à un mélange des genres jusqu'alors peu expérimenté. Le flow incomparable de De La Rocha allié aux guitares aggressives de Tom Morello, font de RATM des pionniers dans le rock metal fusion.
Après 4 albums majeurs, le groupe se sépare en 2000.

Les quatre membres de Rage Against The Machine ont également été (et sont toujours) de profonds militants contre la culture impérialiste, les gouvernements oppresseurs, et soutiennent les Zapatistes en Amérique Latine.
En ligne
Au hasard Balthazar
Sondages