The Velvet Underground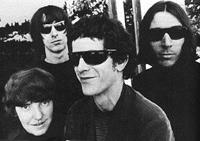 En à peine huit ans (1965-1973) et une poignée d'albums, The Velvet Underground est devenu un groupe culte. Il a ouvert la voie à beaucoup de groupes, que cela soit par leur pop mélancolique et urbaine, ou par leurs expérimentations dissonnantes.

Formé en 1965, le line-up original comprend Lou Reed, John Cale, Moe Tucker et Sterling Morisson. Sous les conseils d'Andy Warhol, Nico rejoint le groupe en 1966, enregistre avec eux le premier album avant de partir en solo en 1967. Cale quitte le navire en 1968 après la sortie de White Light/White Heat, pour être remplacé par Doug Yule. En 1970, après le quatrième album Loaded, Reed part à son tour en solo et Yule prend alors les commandes. Sterling Morisson abandonne l'ànnée suivante, et Steve Sesnick (le manager du VU) décide de virer Moe Tucker pour préparer le coup commercial (raté) que fut Squeeze ; qui sortira tout de même en 1972 malgré les pressions des ex-membres du groupe...
En ligne
Au hasard Balthazar
Sondages