| | | |
| --- | --- | --- |
| | Paris [Café De La Danse] - lundi 25 avril 2005 | |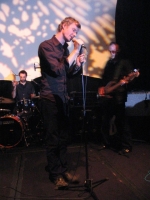 Ce soir, 3 concerts dans un Café de la Danse archi-comble... 19h30: on sort du boulot, on vient d'avaler un sandwich et That Summer nous positionne délicatement en mode "Détente on"...

Un Flotation Toy Warning et deux verres de blanc plus tard, voici The National qui débarque sur scène. Et le moins qu'on puisse dire,c'est qu'ils sont au taquet ! Un Matt Berninger à la limite de la transe, un batteur qui fait entendre son jeu de fou furieux, un Padma Newsome déchaîné au violon, les guitares et la basse qui font péter les mélodies... Le son est bon, The National est dedans et défend ses compos (superbes, soit dit en passant) avec une folle énergie. Les morceaux défilent à toute allure et suspendent le temps. On retiendra notamment une magnifique chanson dédiée à Shaun par Matt (le refrain 'I am sorry for everything' repris par les membres du groupe était ultra-poignant...), une version sublime de "About Today" et les cris de Matt sur certains morceaux où il était vraiment ailleurs... Et tellement présent dans nos têtes...

Quelle voix ! Quel groupe ! Quelle claque ! Ca fait du bien !

Photo par Vincent.

Proposez votre chronique !
En ligne
Au hasard Balthazar
Sondages