| | | |
| --- | --- | --- |
| | Bruxelles - Belgique [Botanique - L'Orangerie] - jeudi 16 septembre 2004 | |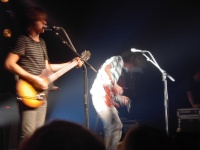 C'est donc ça les Libertines live? Un chouette groupe de guitar rock qui balance à la vitesse v v prime des scuds peinturlurés de pop qui touchent leur cible en plein coeur: un public jeune persuadé de voir là LE groupe ultime. Ca pogotine, ça body flyotte, ça body wavette, ça s'amuse... Bref c'est sympa mais ca atteint rarement des sommets. Si les Libertines concourent sous l'étiquette punk rock, ils ont laissé l'épingle à nourrice dans les coulisses. De ce qu'on voit, il n'y a rien de punk. Ni dans la musique, ni dans l'attitude. Point de sauvagerie, point d'arrachement vocal. Absence de férocité, show en berne, ca frise la tromperie sur marchandise... C'est un brin sévère mais les Libertines me sont apparus taillés dans un bois encore trop tendre pour être à la hauteur de la réputation qu'on leur prête. Et ici, je ne parle pas des kilos de dopes ingérés ou d'hectolitres de scottish whiskey engloutis mais de sensation musicale. Sur ce plan là, c'est la déception.

Setlist:
Don't Look Back Into The Sun
Horrors How
Up The Bracket
Vertigo
Can't Stand Me Now
Begging
Death On The Stairs
Road To Ruin
Time For Heroes
Plan A
The Ha Ha Wall
Last Post On The Bugle
Tell The King
The Boy Looked At Johnny
Boys In The Band
The Good Old Days
What A Waster
>>>
Narcissist
What Became Of The Likely Lads
I Get Along





Photo par Fan Thomas.

Proposez votre chronique !
En ligne
Au hasard Balthazar
Sondages