The Afghan Whigs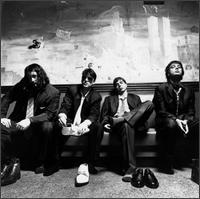 The Afghan Whigs fait partie de ces groupes de rock indé qui a connu le succès et qui est resté fidèle à son esprit d'origine.
Cette formation voit le jour en 1986. Sous la houlette de son leader Greg Dulli, The Afghan Whigs voit son indie rock rencontrer un succès de plus en plus large au fil des années. Parvenant à signer sur Sub Pop en 1990, The Afghan Whigs sort totalement de "l'underground" lors de son arrivée sur une major en 1993: Elektra (puis Columbia en 1998).
The Afghan Whigs se disloque en 2001, après 6 albums. Greg Dulli se consacrera ensuite à The Twilight Singers.
En ligne
Au hasard Balthazar
Sondages