Mr pich
Profil
Top 50
Statistiques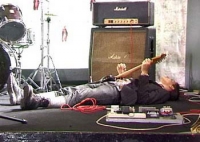 Age :

19 ans


Résidant à :

Clermont Fd


Site web :

http://qotsa_63@msn.com


Inscrit depuis :

le lundi 12 septembre 2005
Un éléphant ne peut pas vivre sur un brin d' herbe... il est bcp tro lourd!!! il briserait le... le... la brindille!!!
A l'instant sur la platine

#0

Modest mouse "good news for people who love bad news"

Playlist du moment

#1

The stooges_ "funhouse"

#2

Primus "frizzle fry"

#3

Melvins "stoner witch" "the maggot"

#4

Kyuss "welcom to sky valley" "blues for the red sun"

#5

The 80s matchbox b-line disaster "horse of the dog "the royal society"
» Mr pich
vous recommande :
Rien pour l'instant !

4 messages dans les forums

1 chronique de disque.

1 chronique de concert.
En ligne
Au hasard Balthazar
Sondages