| | | |
| --- | --- | --- |
| | Bruxelles - Belgique [Botanique - La Rotonde] - mardi 16 novembre 2004 | |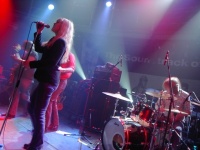 Ash à l'Orangerie, Soundtrack Of Our Lives à la Rotonde: voilà une programmation de choix, une de plus, proposée par l'équipe du Botanique. Mais n'en déplaise aux fans, l' événement de la soirée, c'est le passage des Detroit Cobras dans la capitale belge. Dans un premier temps cantonné au Witloof Bar pour cause d'agenda chargé, la bonne fée Bota, attentive à ses ouailles, d'un coup de baguette magique d'offrir une salle digne de la réputation du band de Detroit: ce sera donc la Rotonde en ouverture de Soundtrack Of Our Lives. Et aux Detroits Cobras de servir une heure durant un rock 'n' roll incandescent...

S'appropriant des standards ou autres compositions plus obscures des 50's et 60's, les Detroit Cobras inspirent le respect dès leur apparition. Look vintage de chez vintage qui sent le cacheton dans les clubs malfamés pour s'offrir la gnole du soir, les Cobras n'ont cure des présentations, attaquent à la gorge et inoculent leur venin. Rachel Nagy, voix suave ou énervée, mène la revue en mère maquerelle du bouge Rock 'n Roll. Crooneuse léthale ou rockeuse arrivée à sa 9ème vie, la blonde Rachel nous joue la bande-son d'une "american tragedy" où le noir des idées sombres et du macadam urbain prévaut sur les dorures et les grands espaces. Des goldies psychédéliques aux ritournelles motown, la musique des Detroit Cobras se pose en héritage de ces temps immémoriaux où s'adonner aux joies du rock 'n' roll s'apparentait à la dépravation et la luxure.

Salutaire.

Setlist

Hey, Sailor
Slippin' Around
My Baby Loves The Secret Agent
I'll Keep Holding On
Ya Ya Ya
Midnight Blues
Laughing At You
Baby Let Me Hold Your Hand
Cha Cha Twist
Bad Girl
Bye Bye Baby
Feet On The Right Side (Yaki)
Hot Dog (Watch Me Eat)
You Don't Knock
Mean Man
Everybody's Going wild
Shout Bama Lama
Cry On
Be Mine Tonight




Photo par Fan Thomas.

Proposez votre chronique !
En ligne
Au hasard Balthazar
Sondages