Echo & The Bunnymen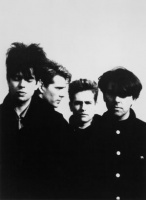 Tout d'abord, baptisé Echo en 1978, le duo Ian McCulloch (chant) - Will Seargent (guitare) se renomme Echo & The Bunnymen, avec l'arrivée de Lee Pattinson (basse). Abandonnant leur boîte à rythme au profit du recrutement du batteur Pete de Freitas, le groupe de Liverpool, sort son premier album en 1980. Durant ses cinq albums, Echo & The Bunnymen distillera un rock post-punk mêlée de pop psychédélique avant que Ian McCulloch ne quitte le groupe en 1988.

De Freitas décède à la suite d'un accident de voiture en 1989.
Ian McCulloch se lancera dans une carrière solo avant de former Electrafixion avec Will Seargent en 1994, et de reformer Echo & The Bunnymen en 1997.
En ligne
Au hasard Balthazar
Sondages