Afficher
C'est (presque) reparti pour un Dour!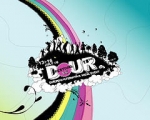 C'est du 13 au 17 Juillet que 200 groupes se partageront l'affiche du toujours incontournable Dour Festival (entre Mons et Valenciennes), sur pas moins de six scènes.
De cette longue liste presque définitive et complète, nous retiendrons principalement les formations suivantes:


Jeudi 13: 65 Days Of Static, Andy C, Art Brut, DK7, Erlend Øye, Infadels, Maximo Park, Modeselektor, Nathan Fake, Pendulum, Primal Scream, The Bellrays, Sweek, The Lords Of Altamont.

Vendredi 14: Aavikko, Amen Ra, Battles, Bauchklang, Brain Damage, Das Pop, Ignite, Kill Your Idols, Mark Stewart And The Maffia, Mercury Rev, Nebula, Shelter, Peeping Tom, The Birthday Massacre, With Honor, Zita Swoon.

Samedi 15: 31 Knots, Agnostic Front, An Pierlé & White Velvet, Arab Strap, Archive, Born From Pain, Derrick May, Haymarket Riot, Hitch, I Am X, Islands, Ladytron DJ Set, Mudhoney, Punish Yourself, T.Raumschmiere , The Haunted, Troy Von Balthazar, Venus, We Are Wolves.

Dimanche 16: ...And You Will Know Us By The Trail Of Dead, Adam Green, Absynthe Minded, Alias, Animal Collective, Bell Orchestre, Constantines, Dear Leader, Final Fantasy, Gravenhurst, Hermano, Mono, Motormark, Nada Surf, Nervous Cabaret, The Dandy Warhols, The Datsuns, The Gossip, The White Birch, Two Gallants, WhoMadeWho.

Autant dire qu'il y en aura pour tous les goûts...
Attention, le festival était pour la première fois de son histoire sold-out l'an dernier, mieux vaut donc se prémunir d'un ticket à temps...

http://www.dourfestival.be


Sweek
Arab Strap
Two Gallants
Gossip
The Datsuns
The Dandy Warhols
Nervous Cabaret
Nada Surf
Mono
Hermano
Gravenhurst
Final Fantasy
The Constantines
Bell Orchestre
Adam Green
The Haunted
Venus
Troy Von Balthazar
Mudhoney
Islands
Ladytron
I Am X
Haymarket Riot
Archive
An Pierlé
Nebula
Mercury Rev
Battles
Primal Scream
The Bellrays
Maxïmo Park
Infadels
Art Brut
Animal Collective
Amen Ra
Zita Swoon
31 Knots
...And You Will Know Us By The Trail Of Dead
Peeping Tom
Le Furyfest a son digne successeur : le Hellfest !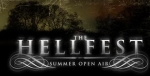 Si les amateurs de hardcore et de metal ont sûrement regretté la disparition du Furyfest du Mans, ils peuvent dorénavant se réjouir, puisque le Hellfest pointe le bout de son nez à la fin du mois de juin près de Nantes, et plus exactement à Clisson.

Et autant dire que les amateurs de gros bruit et de riffs sauvages vont être servis ! Au menu de ces trois jours: tout simplement metal lourd et hardcore brutal ! Nous vous laissons seuls juges:

Vendredi 23 juin:
Mainstage: Korn, Soulfly, Apocalyptica, Alice In Chains, Stonesour, Avenged Sevenfold, Orphaned Land, Bloodsimple, Darkest Hour, Textures, Korum, Locus.
Hard'N'Heavy Stage: Opeth, The Haunted, Ignite, Ackercoke, Dagoba, With Honor, Cephalic Carnage, Rise And Fall, Endstand, Happyface, Sonny Red.

Samedi 24 juin:
Mainstage: Motorhead, Saxon, Cradle Of Filth, Helloween, Satyricon, Danko Jones, Trivium, Raised Fist, Nightmare, As I Lay Dying, Most Precious Blood, Drowing.
Hard'N'Heavy Stage: Arch Enemy, Zyklon, Devil Driver, Boysetsfire, Capricorns, Black Dalhia Murder, Damnation Ad, Taint, Gadget, Ringworm, Cortez.

Dimanche 25 juin:
Mainstage: Dead Kennedys, Obituary, Madball, Entombed, GBH, Gojira, 36 Crazyfist, Mad Sin, Hatesphere,Knuckeldust, Carnaval In Coal, Prostitute Disfigurement.
Hard'N'Heavy Stage: Celtic Frost, Agnostic Front, Nile, Leeway, Born From Pain, Knut, Panic/Guns Up, Demented Are Go!, Go It Alone/Allegiance, Amen Ra, Hellmotel.


Evidemment, amateurs de musiques douces et de poésie, s'abstenir... Pour les autres: bon défoulement !!

http://www.hellfest.fr/
Amen Ra
Alice In Chains
The Haunted
Gojira
Knut
Danko Jones
Boy Sets Fire
Capricorns
Dead Kennedys
Don Caballero et beaucoup d'autres à Paris à l'occasion du Sonic Protest Festival !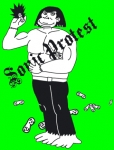 Pour sa quatrième édition, le Sonic Protest Festival qui se tiendra du 4 au 7 mai prochain aux Instants Chavirés, Espace 1789 et aux Mains d'Oeuvres, promet une programmation bruyante et pleine de surprises, et annonce notamment le retour tant attendu de Damon Che derrière les fûts de Don Caballero !

Jeudi 4 mai - Instants Chavirés :
Monno, Pétrifié, Prurient, Charlie O.

Vendredi 5 mai - Instants Chavirés :
Zaimph, Bulbul, Country Teasers, Charlie O.

Samedi 6 mai - Espace 1789 :
Don Caballero, Viki, Volcano The Bear, Panicsville, Magic Is Kuntmaster, Charlie O, Le Dernier Cri "Les Religions Sauvages, Le Film".

Dimanche 7 mai - Main D'Oeuvres :
Heliogabale, Axolotl, The Skaters, Cosmodrone, Tomutonttu, Hair Police, Charlie O, El Shopo.
"We Jam Econo – The Story Of The Minutemen" : documentaire hommage aux pionniers du hardcore US.

Toutes les infos ici : http://www.sonicprotest.com/
Don Caballero
Monno
Heliogabale
The Minutemen
La 23e édition du Festival Art Rock a enfin dévoilé son affiche...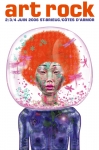 Ca y est la saison des festivals débute véritablement en Bretagne ! Et pour commencer, c'est le festival Art Rock qui vient de dévoiler son affiche pour sa 23 édition, et autant dire qu'il y en aura pour tous les goûts !

Vendredi 2 juin:
The Black Heart Procession, John Lord Fonda, Why ?, Cirkus Featuring Neneh Cherry, DJ Le Clown, Fishbone, Fun Lovin' Criminals, Goran Bregovic, Seun Kuti & Egypt 80, Sofiane Saïdi, My Lullaby, DJ Koulechov.

Samedi 3 juin:
Happy Mondays, dEUS, Yeah Yeah Yeahs, The Rakes, Katerine, Depth Affect, David Walters, Swing Bazar, Cirkus Featuring Neneh Cherry, Club Cabaret, Soldout, Liquid Architecture, Jacno, DJ Koulechov, Compagnie de L'Uppercut.

Dimanche 4 juin:
Carte blanche au label Tôt Ou Tard, Têtes Raides, Thomas Fersen, Venus, Da Silva, Swing Bazar, Vincent Delerm et Lhasa, Agnès Jaoui, 4 Espèces De Chanteurs, Redlegs, Bombes 2 Bal et les Fabulous Troubadors, François Audrain, Dick Annegarn, Frank Monnet, Constance, Bumcello, Peter Von Poehl.


Xsilence attire également votre attention sur le fait que Art Rock se veut un festival pluridisciplinaire, qui, s'il s'intéresse à la musique, n'en oublie pas pour autant la video, les arts numériques, et les spectacles mutimédias; dont voici le programme:

Vidéo:
Art Futura Show
Film Arte: "Mamy Scopitone", "Clip Story", "Clipausorus Rex", "Clips Interdits!"
Synthasia
DV8

Spectacles multimédias:
Hiroaki Umeda : While Going To A Condition
Adrien M : Convergence 1.0

Arts numériques:
Kevin Binkert : Flame Tornado
Edwin Van Der Heide : Laser Sound Performance
Philippe Meste : "Missile", "LHRB", "WWXX"
Recyclism : De Pong Game
Amit Pitaru : Sonic Wire Sculptor
Daniel Rozin : Circles Mirror
Blast Theory : Trucold
Jeffrey Shaw : The Legible City
Chanfrault, Chomaz et Kartz : Infra Espace


Toutes les infos ici : www.artrock.org .
Et bon festival !
Venus
Soldout
Liquid Architecture
The Rakes
Yeah Yeah Yeahs
Deus
Happy Mondays
Why?
The Black Heart Procession
Toute l'actu des Black Heart Procession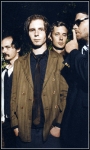 Grosse actualité pour les Black Heart Procession cette année ! Dès le mois de mai 2006, on les retrouvera tout d'abord avec leur dernière production intitulée " The Spell " , publiée chez Touch&Go (distribution PIAS).
Une nouvelle fois, les Black Heart Procession livrent une oeuvre sombre et complexe, mais avant tout riche et subtile, mêlant des couleurs sonores tout en clair-obscur.
Voici le tracklisting complet de l'album :
01. Tangled
02. The Spell
03. Not Just Words
04. The Letter
05. The Replacement
06. Return To Burn
07. GPS
08. The Waiter #5
09. Places
10. The Fix
11. To Bring You Back
Dans la foulée, les américains nous rendront visite pour une tournée française qui traversera une large partie du pays.
29.05.2006 Paris - La Maroquinerie
30.05.2006 Blois - Le Chato' do !! Nouvelle date !!
31.05.2006 Lyon - L' Epicerie Moderne
01.06.2006 Angoulême - La Nef
02.06.2006 St. Brieuc - Art Rock Festival
03.06.2006 Tourcoing - Le Grand Mix
The Black Heart Procession
Nouvel Album " The Spell "
# Sortie le 09 Mai 2006 #
(Touch&Go / Pias)
The Black Heart Procession
En ligne
Au hasard Balthazar
Sondages