| | | |
| --- | --- | --- |
| | Bruxelles - Belgique [Ancienne Belgique - AB Box] - mardi 25 janvier 2005 | |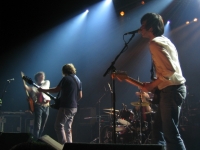 Anthony, Redboy, Eric et Ben: quatre garçons dans le van. Sur les routes depuis 2003 et leur tout premier EP All In The Six, Hollywood Porn Stars écume la scène belge francophone, coins et recoins de la Wallonie. Voilà qui n'est pas prêt de se terminer car 2005 verra le sortie française de Year Of The Tiger, leur premier album signé chez Naïve. Après Jeronimo, Sharko, Girls In Hawaï et Ghinzu, la presse du sud du pays mise sur l'avènement de Hollywood Porn Stars. L'année ne pouvait pas mieux commencer pour eux: ouverture du concert de Kasabian à l'Ancienne Belgique.

Hollywood Porn Stars est un groupe électrique. Une batterie cravate, deux guitares dandy, les garçons soignent désormais leur image. La basse reste en mode bûcheron: pas mal pour le caractère ça. Et oui, finie la maternelle, c'est désormais la rentrée à l'école des Hives et des Strokes. Mais aux coups de poing de la récré, c'est une fameuse déculottée que se prennent les petits nouveaux. Moins énergiques que les uns, moins morveux que les autres, Hollywood Porn Stars va devoir travailler ses gammes et être plus assidu au cours de gym. Ca manque de pêche pour l'orientation choisie et d'originalité pour la présentation, attention à ne pas redoubler. Une heure de colle ? Non, trop de retenue... Copie à revoir.

Allez, tout ça se termine avec une mauvaise note au journal de classe. Qu'on ne vous y prenne plus élève Hollywood Porn Stars...

Setlist:
B.B.
Winona
Fonzie
Hollybody
Jack Black
Starwest
Torpedo
Hollywood
Sadie Sandy
Actarus
Betty





Photo par Fan Thomas.

Proposez votre chronique !
En ligne
209 invités et 1 membre :
X_Lok
Au hasard Balthazar
Sondages