| | | |
| --- | --- | --- |
| | Paris [La Cigale] - samedi 10 novembre 2001 | |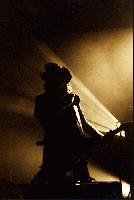 Ce concert de Lift to Experience fut une merveille sonique. Le groupe ouvrit les hostilités avec une impressionnante version instrumentale de Just As We Told, guitare en avant. Sur scène, les trois texans accentue le côté noise de leur musique, et alternent passages ambiants amplifiés par des delays, et tempêtes white noise proche de Mogwai. La voix de Josh Pearson est moins en avant que sur le disque, et s'incline face aux instruments. Il en ressort des versions apocalypthiques de Falling From Clound 9 ou These Are The Days qui clôtura le set sur l'image terrifiante de Pearson, stetson et barbe de six mois, brandissant un squelette de tête de buffle, alors que larsennaient encore les guitares.

Concert ayant lieu dans le cadre du festival des Inrockuptibles, avec à la même affiche Mercury Rev, Elbow, Clim Snide, The Cooper Temple Close.

Proposez votre chronique !
En ligne
Au hasard Balthazar
Sondages