| | | |
| --- | --- | --- |
| | Rennes [L'Antipode] - samedi 08 octobre 2011 | |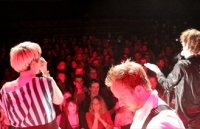 L'affiche de leur tournée en montrait vingt. Ce soir à l'Antipode il y en aura treize. Treize suédois, treize blonds, treize sourires super green, treize Gruts pour diffuser leur sunny delight pop édulco(lo)rée et joyeuse. Réuni autour de Emanuel Lundgren, le collectif enchaîne 1h30 de tubes naïfs et légers sans s'économiser. Chacun ajoute sa petite touche de xylophone, de cuivres ensoleillés, ses claps, ses petits pas de danse, appuie sur le bouton pour tirer des confettis. Pas besoin de connaître le répertoire de I'm From Barcelona pour prendre du plaisir. La formule est finalement toujours la même (les ballons à se renvoyer en plus sur la deuxième moitié du concert). Ces trublions scandinaves sont là avant tout pour diffuser de la bonne humeur et de la légèreté. Et c'est une réussite à voir l'énergie qui déborde autant sur scène que dans le public. Le son est très soigné et fidèle aux productions (pas évident vu le nombre). Le twee show aussi avec des clins d'œil bien préparés comme un excellent freeze du groupe tout entier pendant "Dr. Landy", la comparaison entre "We're From Barcelona" et le générique de Mac Gyver siffloté, la chorégraphie YMCA de "Treehouse" ou encore la reprise de "Because we are your friends, you'll never be alone again, Ooh... come on!". Bref, un concert où tout le monde il est beau, tout le monde il est gentil, candide et radieux sans une calorie de trop. Ca fait du bien de temps en temps.

Setlist

Intro
Get In Line
Charlie Parker
Always Spring
Headphones
This Boy
Battleships
Mingus
Dr. Landy
Oversleeping
Come On
Jenny
We're From Barcelona
Barcelona Loves You/We Are Your Friends
>>
Game Is On
Treehouse
The Painter
Forever Today
>>
Paper Planes


(Photo prise par le groupe)

Proposez votre chronique !
En ligne
Au hasard Balthazar
Sondages