| | | |
| --- | --- | --- |
| | Bruxelles - Belgique [Botanique - La Rotonde] - samedi 15 janvier 2005 | |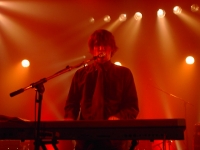 The Good Life, c'est le side project de Tim Kasher, chanteur et guitariste de Cursive. Auteur de The Album Of The Year en 2004, le groupe originaire de Omaha est de passage à la Rotonde de Bruxelles.

Débutant avec "The Album Of The Year", The Good Life va une heure trente durant, proposer une pop destucturée alliant tour à tour envolées lyriques et expérimentations. A la croisée des Stranglers, des Go Betweens et de Grandaddy, la musique de Tim Kasher et de ses compagnons de route ne manque pas d'idées, et s'ingénue à louvoyer du côté du jazz, du rock et punk. Manifestement de bonne humeur et bien sans sa peau, Tim Kasher ne peut cacher sa joie de se retrouver pour la x-ième fois à la Rotonde, et reconnaître à chaque étape bruxelloise des fidèles parmi le public. Un superbe rappel viendra en guise de récompense.

2005, année pop? The Good Life, avec sa musique intelligente et adulte, a dignement ouvert le bal.

Photos par Fan_Thomas.

Proposez votre chronique !
En ligne
Au hasard Balthazar
Sondages