The Sound Of Animals Fighting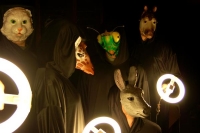 Horde improbable sortie de Los Angeles, The Sound Of Animals Fighting évolue d'abord dans un emocore classique avant de pousser son psychédélisme et ses expérimentations vers un rock progressif. Après un premier album en 2005, c'est chez Equalvision que le groupe balance sa seconde plaque, un an plus tard.

Le groupe est composé, entre autres, d'anciens membres de Finch, Circa Survive, Saosin et RX Bandits.
A ce jour, 9 membres participent à ce projet, tous revêtus d'un masque animalier afin de garder l'anonymat pour des raisons de droits d'auteur et de contrats avec leurs labels respectifs.
En ligne
Au hasard Balthazar
Sondages