Afficher
This is la Mélodie Hardcore du Bonheur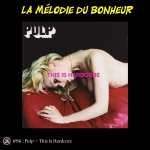 L'album de la semaine : Comme tous les quatre épisodes, c'est l'heure du hors-actu. Cette fois, c'est Loïc qui dégaine et propose de remonter le temps. Lui, Flavien, Plock et Wazoo parlent de This Is Hardcore, album de Pulp sorti le 30 mars 1998.




• Quiz : Mylène Farmer - Rêver ; Devin Townsend - Christeen ; Sun Kil Moon - Third and Seneca ; Burzum - Jeg faller ; Janet Jackson - All for You ; Prince - Anna Stesia ; Death Grips - No Love ; Led Zeppelin - Dancing Days ; Midori - Kanashii Hibi ; Kelsey Lu - Due West ; The Jimi Hendrix Experience - Crosstown Traffic ; Acid Mothers Temple & The Melting Paraiso U.F.O. - Suzie Sixteen ; Rosalía - Pienso en tu mirá (Cap.3: Celos) ; Tommy Genesis - Tommy ; Red Hot Chili Peppers - Higher Ground

Retrouvez le podcast sur Mixcloud, Podcloud ou iTunes. Vous pouvez le suivre sur Twitter, Facebook
Pulp
Entrée-Plat-Dessert #31 : What a wonderflu world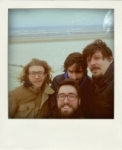 Entrée-Plat-Dessert est un podcast qui vous permet de goûter sur le pouce le travail d'un artiste, d'un groupe ou une thématique à travers 3 morceaux présentés par votre serveur du jour.

Pour cette 31° émission, Blackcondorguy vous propose une spéciale consacrée à l'excellent groupe d'indie rock parisien : Wonderflu.


Wonderflu
Big Thief dépouille la Mélodie du Bonheur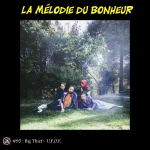 L'album de la semaine : Cette semaine, Flavien, Lok et Wazoo vous parlent d'If You Think I'm a Bitch You Should Meet GFOTY, EP de GFOTY sorti le 12 avril 2019.




• Quiz : Stereolab - Brakhage ; Digable Planets - Graffiti ; KISS - Hooligan ; Arcade Fire - Porno ; Kendrick Lamar - XXX ; TV on the Radio - DLZ ; No Age - Cappo ; Daft Punk - Teachers ; Joanna Newsom - Autumn ; Manuel Göttsching - Ansatz ; The Microphones - Map ; Roxy Music - Serenade ; Underworld - Tongue ; New Order - Run ; M83 - America

Retrouvez le podcast sur Mixcloud, Podcloud ou iTunes. Vous pouvez le suivre sur Twitter, Facebook
Big Thief
Magellan ne dit pas non à une petite brise : direction la Suède !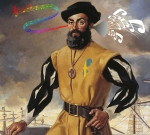 Le pays du mois :
Pour ce dix-septième épisode, on repart en Europe sur un choix de Flavien. Un pays plus reposant que le précédent en terme de recherches et pour lequel on espère que vous répondrez présent pour l'épisode du public, la Suède !



Tracklist :
Eva Rune, Agneta Stolpe, Susanne Rosenberg, Pelle Jakobsson, Anna Aronsson, Jonny Soling - "Vallmusik kring Stångtjärn"
Turid - "Bilder"
Jay-Jay Johanson - "Make Her Mine"
Edge of Sanity - "Incantation"
Kultivator - "Vemod"
The Knife - "Silent Shout"
Stina Nordenstam - "Until"
Playmates - "Fine, Fine Day"
SHXCXCHCXSH - "Rudimental Retreat"
The Coffinshakers - "Last Night Down by the Grave"
Komeda - "Happyment"
Library Tapes - "The Sound of Emptiness (Part 2)"
Bladee- "Jaws"
ECCO2K - "I'm Alright"
Lars Hollmer - "Yrsa Requiem"
José González - "Slow Moves"
Varg - "U Control The Ocean (Second Crush)"
SoulEye - "Potential for Anything"

Envoyez vos morceaux
Vous avez jusqu'au 7 juillet 2019 23:59 pour envoyer un titre suédois accompagné de votre commentaire à wazoo@xsilence.net

Nous sélectionnerons certains des morceaux reçus pour les diffuser et lirons le commentaire associé.

• Générique de début : Depeche Mode - "World in My Eyes"
• Générique de fin : Wyatt / Atzmon / Stephen - "What a Wonderful World"

Retrouvez le podcast sur : Mixcloud, Podcloud ou iTunes.
Vous pouvez le suivre sur Twitter, Facebook ou via son Flux RSS.
The Knife
Stina Nordenstam
Jay Jay Johanson
José Gonzalez
GFOTY Illumine la Mélodie du Bonheur !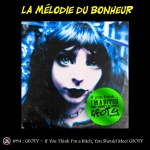 L'album de la semaine : Cette semaine, Flavien, Lok et Wazoo vous parlent d'If You Think I'm a Bitch You Should Meet GFOTY, EP de GFOTY sorti le 12 avril 2019.




• Quiz : Earl Sweatshirt - Grief ; Gila - Aggression ; Sun City Girls - The Shining Path ; Ryan Adams - Oh My Sweet Carolina ; Nine Inch Nails - Starfuckers, Inc ; Fuck Buttons - Sweet Love for Planet Earth ; Miles Davis - John McLaughlin ; Neil Young - F*!#in' Up ; Lomaik - Fils de pute ; Jenny Hval - Untamed Region ; Suprême NTM - Laisse pas traîner ton fils ; Carissa's Weird - Ignorant Piece of Shit ; Prodigy - Smack My Bitch Up ; Stereolab - You Little Shits ; Les Conards - Comme des connards

Retrouvez le podcast sur Mixcloud, Podcloud ou iTunes. Vous pouvez le suivre sur Twitter, Facebook
GFOTY
En ligne
Au hasard Balthazar
Sondages