Stephen Malkmus And The Jicks
| | | |
| --- | --- | --- |
| | Bruxelles - Belgique [Ancienne Belgique - AB Box] - lundi 26 septembre 2005 | |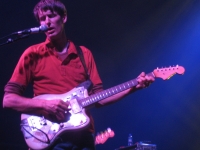 Point d'orgue d'une soirée qui se voulait fastueuse par un programme des plus alléchants et faussement éclectique entre la preview du nouvel album de Franz Ferdinand, la projection du DVD Slow Century sur Pavement, le concert des Cribs en ouverture et l'after-show de Fence, Stephen Malkmus aura complètement réussi une chose : confirmer que le temps des Pavement est bien mort. Accompagné de ses désormais familiers Jicks, l'homme des All Tomorrow's Parties à la dégaine chaloupée et à la coolitude assurée, nous la joue Mr Nice Guy. Un peu trop d'ailleurs ... Jamais avare de bons mots, Stephen Malkmus en oublie de faire monter la sauce. Et ce n'est pas ces quelques envolées soniques bien timorées qui risquent de porter l'estocade. Si les textes de Malkmus ont souvent goûté l'acide, sa pop psyché manque de mordant. Méforme d'un soir ou faiblesse de Face The Truth sur les planches ? ... La réalité est là, Pavement se fait attendre mais c'est toujours Stephen Malkmus & The Jicks qui se font entendre jusqu'au très velvétien "Here", seule réelle étincelle d'une prestation un brin décevante.

Photo par Fan_Thomas.

Setlist :
(Do Not Feed The) Oyster
Freeze The Saints
I've Hardly Been
Mama
Malediction
No More Shoes
Dark Wave
Post-Paint Boy
It Kills
Dragon Fly Pie
Jenny& Ess-Dog
Baby C'mon
Witch Mountain Bridge
------------------------------
Wow Ass Jeans
Pencil Rot
Here

Proposez votre chronique !
En ligne
Au hasard Balthazar
Sondages