Valley Of The Giants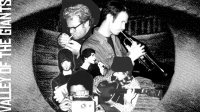 Valley Of The Giants porte plutôt bien son nom : ce groupe est une sorte de 'Dream Team' du post-rock, regroupant dans ses rangs des membres de Broken Social Scene, Do Make Say Think, Strawberry, Shalabi Effect et Godspeed You! Black Emperor.
Leur premier album paraît en février 2004.
En ligne
Au hasard Balthazar
Sondages