Si on peut dire que Blunderbuss était globalement la fusion des influences de Jack White, pour Lazaretto ça serait plutôt celle de ses différents...
» Lire la chronique
...And You Will Know Us By The Trail Of Dead

Prolongement plus gras de So Divided, ce sixième coup du ...Trail Of Dead semble vouloir concilier les moments magiques des premières heures et les...
» Lire la chronique

Laetitia est là, avec la tête de celle qui vient d'être parachutée sur la scène par des aliens et qui a un peu du mal à comprendre qu'elle est bien là.
» Lire la chronique


Saison De Rouille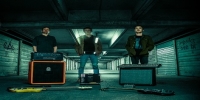 En ce mois de juin 2014, Karl S. du groupe Saison De Rouille a accepté de répondre à quelques questions. Interview réalisée par Arno...
» Lire l'interview

Webzine communautaire du Rock Indépendant, xsilence.net se veut avant tout un lieu d'échange.

En ce sens, l'équipe du site vous propose d'y participer, en vous offrant la possibilité d'écrire vos propres chroniques de disques et de concerts, après inscription en tant que membre actif.
En ligne
Au hasard Balthazar
Sondages