| | | |
| --- | --- | --- |
| | Sometimes I Sit And Think And Sometimes I Just Sit | |

Tout droit venue de cette Océanie conquise ces dernières années par l'empire du revival psyché (Pond, Tame Impala, Unknown Mortal Orchestra,...
» Lire la chronique

Le lendemain du concert, me voici chez l'excellent disquaire Gilbert Joseph, 34 Boulevard Saint-Michel. Je farfouille dans les bacs et quelle ne fut...
» Lire la chronique

C'est un peu comme une confrontation avec le réel, mais sans la part habituelle de désillusion. Au contraire, la réalité dépasse l'image qu'on s'était faite.
» Lire la chronique


Bärlin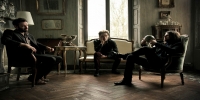 Cette interview revient de loin... Une première avait été entreprise fin 2014, juste avant un concert de Bärlin à l'Aéronef. Quelques semaines plus...
» Lire l'interview

Webzine communautaire du Rock Indépendant, xsilence.net se veut avant tout un lieu d'échange.

En ce sens, l'équipe du site vous propose d'y participer, en vous offrant la possibilité d'écrire vos propres chroniques de disques et de concerts, après inscription en tant que membre actif.
En ligne
Au hasard Balthazar
Sondages