| | | |
| --- | --- | --- |
| | Bruxelles - Belgique [Ancienne Belgique - AB Box] - lundi 26 septembre 2005 | |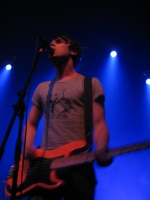 La soirée s'annonçait belle et comme à son habitude, l'Ancienne Belgique a déroulé le tapis rouge pour la venue de Stephen Malkmus dans la célèbre salle bruxelloise. Le pré-programme se voulait de choix. Entre l'écoute en avant-première de You Could Have It So Much Better, le nouvel album des Ecossais de Franz Ferdinand, ou la vision du DVD Slow Century de Pavement à l'AB Club, les Cribs se sont vu offrir l'opportunité d'ouvrir pour Malkmus et ses Jicks.

Les Cribs ou les trois frères Jarman à la coupe de cheveux pas très novatrice qui distillent un rock matiné de pop pas très novateur et typically so british. Si la fratrie ne manque pas d'énergie, l'originalité fait défaut à cette musique maintes fois entendue. Compos parfois enjouées, parfois entraînantes mais trop vite évaporées dans les arcanes de l'AB. La basse claque, la guitare est faiblarde, la batterie approximative. Et comme le chant assuré successivement par Gary et Ryan relève de l'ordinaire, l'ennui s'installe bien vite, malgré un final inutilement et maladroitement bruitiste.

Aussitôt partis, aussi vite oubliés les Cribs.

Photo par Fan_Thomas. Merci.

Setlist :
Hey Scenesters!
Direction
The Lights Went out
Mirror Kissers
It Was Only Love
You Were Always The One
Martell
We Can No Longer Cheat You
What About Me
Another Number
The Wrong Way To Be

Proposez votre chronique !
En ligne
Au hasard Balthazar
Sondages